Fluorite(CaF2)
Fluorite for Optics(CaF2)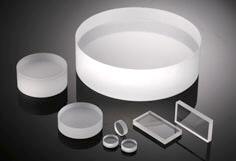 Crystal of Fluorite has very low chromatic dispersion and properties of abnormal dispersion which is different from optical glass. Because of those features, it can provide stable optical performance with very little chromatic aberration (which means it has no difference among focal length in wide wavelength band) when it is used in lens.

DAICO's USC-A, -U series is high quality optical fluorite(CaF2) which has high homogeneous and better optical transparency in wide area such as in vacuum ultraviolet and infrared.

Especially it is ideal for optical parts (lens, window, prism) of high output UV laser such as vacuum UV eximer laser.
We also handle with materials with excellent damage threshold level for optical parts of solid lasers.
Optical Transparency
Homogeneousness
※An example of homogeneousness(Δn)
   ・Size:240φ×40t
   ・Δn=1.3×10-6