Quartz Cells for Photo Spectroscopic Optical Measurement
<Features>
1. Stable transillumination rate
2. Unaffected by temperature change
3. High chemical resistance
4. Can be made to a wide range of sizes and configurations
Type of quartz glass is selected depending on the range of
wave length to optimize the transillumination rate.
For very special applications Pyrex can be used instead of quartz glass.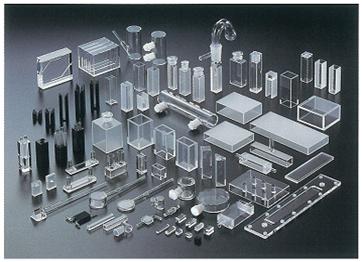 Special Application Optic Cells
<Features>
Depending on the application, customized cells can be made to
a wide range of configurations. Cells will be matched to fulfill the
needs of particular research and prototyping. Inquiries are welcome
for large and small requirements which arise in various fields.
Material will be selected for best results.
" Fused quartz glass (UV, ES), Pyrex glass "
<Bonding Options>
Welding, fusion, gas work, etc. depending on the application.

<Cell Material>
(1) Synthetic Quartz Glass, ES for 190 to 2000nm wave length
(2) Fused Quartz Glass, IR for 220 to 3500nm wave length
(3) Fused Quartz Glass, UV for 200 to 2000nm wave length
Customized design and manufacturing welcome.